The default method for Amazon Fire Stick to connect to your network is WiFi. However, when using WiFi, you may experience slow speeds, connectivity issues and weak signal strengths. This is why a wired connection is the preferred option. Such connection is faster and more reliable. Thankfully, you can have a wired connection on your Fire Stick using an Ethernet adapter. In this tutorial, we will explain how to set up the adapter.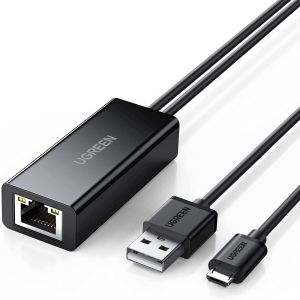 Here is how to set up a Fire Stick Ethernet adapter:
The Fire Stick adapter has two cables coming out of it: a USB cable and a Micro USB cable. It also has an Ethernet port.
Plug the Fire Stick into the HDMI port in your TV
Connect the Micro USB connector into the Fire Stick
Connect the Ethernet cable from the router to the Ethernet port
Plug the USB cable into the AC power adapter
How to check that the wired connection is working:
On your Fire Stick, click Settings

Click Network. On the right side of the screen, you should see Wired (Connected). It means that the Fire Stick is now using a wired connection. 
The Fire Stick Ethernet adapter is an excellent way to get better performance from your network. Use it if you have issues with your wireless connection.